Synthetic Rubber surface designed completely with high-quality EPDM granules and meets international requirements for use. The sporting surface is ideal for use in athletics and other surfaces used on a very regular basis for competitions and demanding training sessions. Professional track surfaces are the ideal basis for top performance. That is why we offer EPDM and PU Sports Fields in UAE that have international standards.
This flooring, which is made from synthetic rubbers to ensure it has the appropriate level of cushioning and hardness, is commonly used as a porous safety matting in areas such as children's play areas in schools and nurseries. It provides a soft and cushioned surface for kids to play on. These floorings are available from us in a variety of sizes, styles, and colours to meet the precise needs of the customers.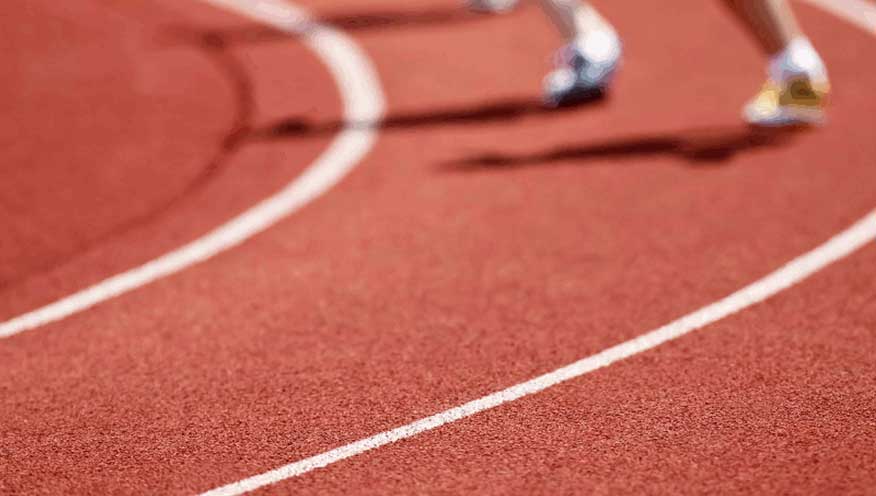 Smart Field Sports produces high-quality running track systems. The track systems are suitable for both competitions as well as for recreational and training purposes. Our Track systems and PU-based ingredients (primers, adhesives, sealers, wear layers PU's, EPDM granules) are very high quality and much more durable. Smart Field Sports is the best provider of EPDM and PU Sports Fields in the UAE.
The Track systems are suitable for international competitions as well as for recreational and training purposes. The tracks are fully weather and temperature resistant and offer a high comfort level for athletes.
Amongst the most important advantages of our Athletic Tracks, the following should be mentioned: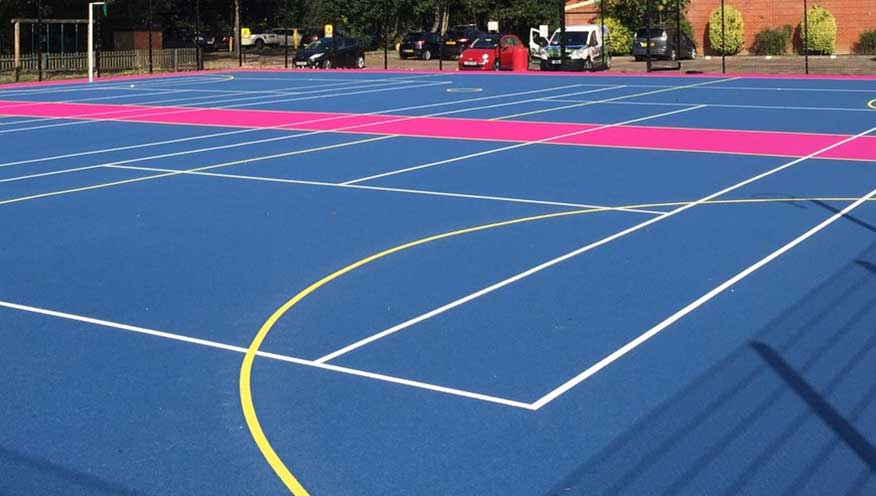 MULTI USE GAMES AREAS (MUGA)
Rubber Surfaces provide a wide range of high-quality multipurpose sports flooring. These surfaces can be found all over the world, for professional sports, recreational sports, and indoor and outdoor applications in all kinds of climates. All of our multipurpose sports systems are very durable, easy to maintain, and cover the broad range of the diversity of different sports played all over the globe.
The multipurpose sports solutions can be divided in 3 main categories..
Polyurethane based sports flooring:
Polyurethane sports floorings are well known for their top quality for all kinds of different sports in all possible climates all over the globe. The excellent slip and wear resistance make the PU-Sport systems the right choice for many athletes in professional sports as well as for recreational sports.
Acrylic based sports flooring:
The Acrylic based Sports Flooring Systems are superior for outdoor and indoor applications. The Acrylic Court was created especially for multipurpose sports courts like tennis courts, basketball courts, skating rinks, and walkways.
EPDM - Rubber sports flooring:
EPDM Rubber Surfaces provide a range of multi-purpose rubber sports surfaces. The EPDM Rubber Sport is an all-weather sports surface, suitable for a wide range of locations: schools, clubs, universities, hotels, or any other recreational facility. EPDM Rubber Sports Flooring can be used for many activities: tennis, basketball, volleyball, football, or any other recreational activity. If you are looking for EPDM and PU Sports Fields in UAE please feel free to contact Smart Field Sports.
TENNIS / BASKETBALL SURFACES
EPDM - Rubber sports flooring:
Smart Field Sports offers a variety of acrylic tennis court surfaces, from the cushioned Court to the hard-court system. Our systems are advanced tennis surfacing systems designed to provide players with the highest levels of surface performance for competition and cushioning for safe training. Cushioned layers provide a soft, shock-absorbing layer for players which protects the player's joints and gives a very comfortable grip and feel underfoot.
High-performance hard court acrylic system designed for application to concrete and asphalt substrates. Textured all weather surfaces giving even pace and grip ideally suited for tennis and multi-sport surfaces. We are providing the ideal hard court for all standards of tennis as the pace can be adjusted to different levels to suit playing standards.
EPDM Tennis Court Sport Surface
The unique porous EPDM rubber crumb can be used as a sports surface and is the perfect type for any MUGA. This can refer to the ball bounce on the tennis court, the player/surface interaction, and the slip resistance applied once the sports flooring has been installed. EPDM rubber crumb sports surfaces can be found as top-specification surfaces for tennis courts and multi-use game areas.
PU Tennis Court Sport Surface
You can choose from a variety of colours and line markings for your polymeric tennis courts, including small-sided tennis for kids and full-sized tennis for adults and competitive play. There are various colours of polyurethane anti-slip coating to suit many different designs and specifications to make the sports court flooring unique. The line markings are also available in several colours so that they stand out from the rubberized flooring.
The construction of this type of sports surface involves mixing rubberized granules with a specifically formulated polyurethane binder on site and laying in site by the method of hand lay or machine lay. Once the flooring has fully cured anti-slip, non-skid polyurethane paint is applied to the flooring to give the flooring colour and skid resistance. This specification is very popular for schools and clubs who are looking to complete a MUGA court upgrade by installing a surface with better playing qualities for different sports.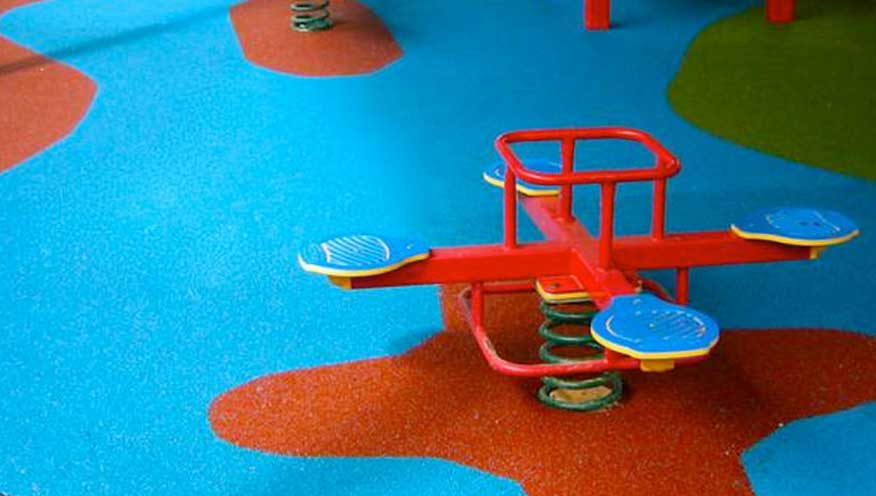 We are engaged in offering various kinds of EPDM and PU Sports Fields in UAE. This flooring is manufactured with synthetic rubbers to ensure that it has the appropriate level of cushioning and hardness. This soft and cushioned flooring is used as porous safety matting for the kids' play areas in schools, malls, and other areas. We provide these floorings in different sizes, shapes, and colours to meet the specific needs and preferences of our clients.
There is a broad range of patterns, styles, and colours to choose from to add vibrancy to your play area and bring joy to children of any age. We understand the importance of safety in your playground design and that is why we offer the best playground rubber flooring that is both safe, durable, and soft. It can protect against even the hardest falls and ensure the safety of little ones against cuts and scrapes.
EPDM/PU Floorings is used for Children Playing Area because of the following benefits:
EPDM and PU Sports Fields in UAE are the ideal solution when it comes to the requirements of a rooftop playground.
We make our rooftop playground using a combination of top-grade SBR tire rubber and UV-resistant EPDM granules in vibrant colours to ensure its quality. As a result of our manufacturing process, we produce a uniform and high-density rubber that is suitable for both playground surfacing and rooftop applications. Our playgrounds are extremely versatile, offering a range of standard color options, thicknesses, and the ability to be used both indoors and outdoors. This makes them the ideal rubber flooring solution for modern playgrounds.