Welcome, you have come to the right place for high quality protection products!
Smart Field Sports LLC is a pioneering company to facilitate your play areas with the best safety padding solutions in Dubai, Abu Dhabi, and in all emirates in UAE
Protect your Children from hazards and accidents in your Primary Play Area, Indoor Gym facility, & Outdoor Sports Field with the highest quality Safety padding Made from fire retardant vinyl fabric and closed-cell polyethylene foam core, our protective padding is custom-made to meet all your specifications.
Customized Safety Paddings:
Smart Field Sports LLC Provides the best customized Safety pads for your all kind of indoor and outdoor facilities, Smart Field Sports LLC specialized in different types and shape safety padding according to our customer's needs. Our team of expert can recognise the exact requirements of our customers which help to provide the best safety paddings to you. We can provide the best safety padding systems in all emirates in UAE such Dubai, Abu Dhabi, Sharjah
FIRE Rated PVC
Our safety padding is covered with Fire retardant PVC Fabric which will provide extra safety to your facility, flame retardant PVC polyester is generally used to cover the safety padding where a flame-retardant material is required. Smart Field Sports LLC installed flame-retardant safety padding in Abu Dhabi & Dubai
High UV resistance:
As a pioneer company for Safety Padding in Dubai, Smart Field Sports LLC are committed to provide the best quality Safety Padding to our clients, Direct Sunlight exposure to any object is harmful to any materials which may damage the lifespan and colour of the PVC fabric, we are providing the best UV protected PVC fabric to cover our safety paddings in Dubai, Abu Dhabi, Sharja,
Climate friendly:
Smart Field Sports LLC make sure that we are installing the best quality Safety padding to our client, which will survive in all-weather condition in UAE.
Durable and reliable:
Our pads are of superior quality and can work in long run. They absorb no water and this helps to protect our objects from getting rust and make them work in long term. This saves your money and very low maintenance.
Now let us tell you some important information about manufacturing which we required when we go for a purchase. Have a look at the material that is used in the making process.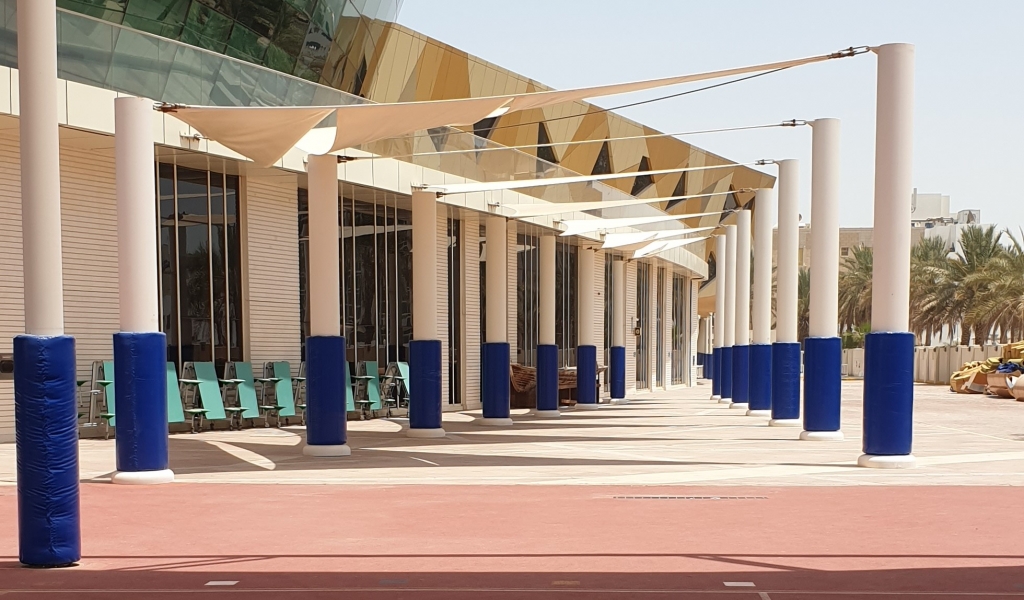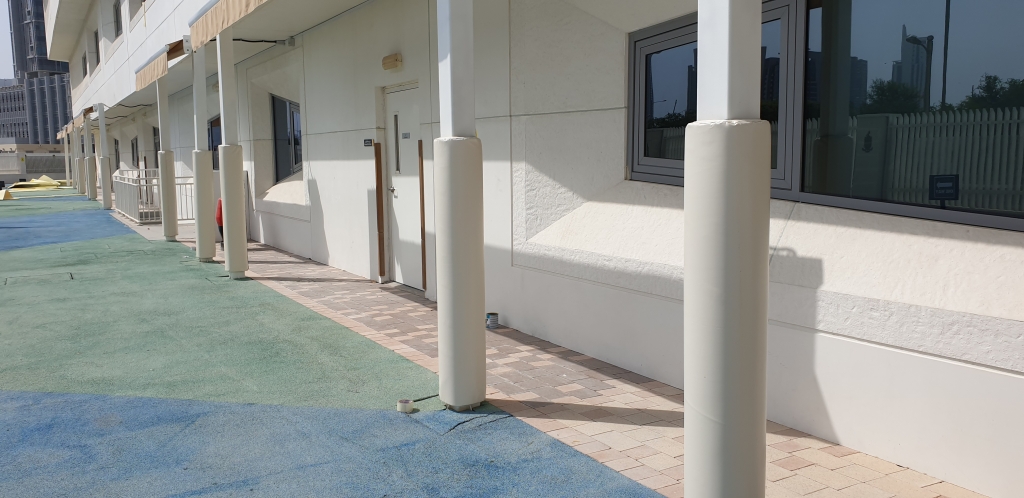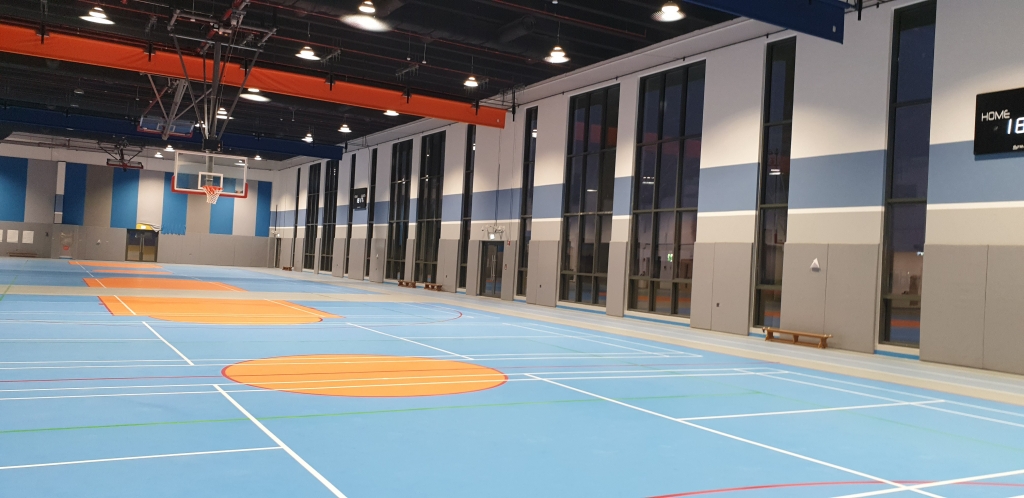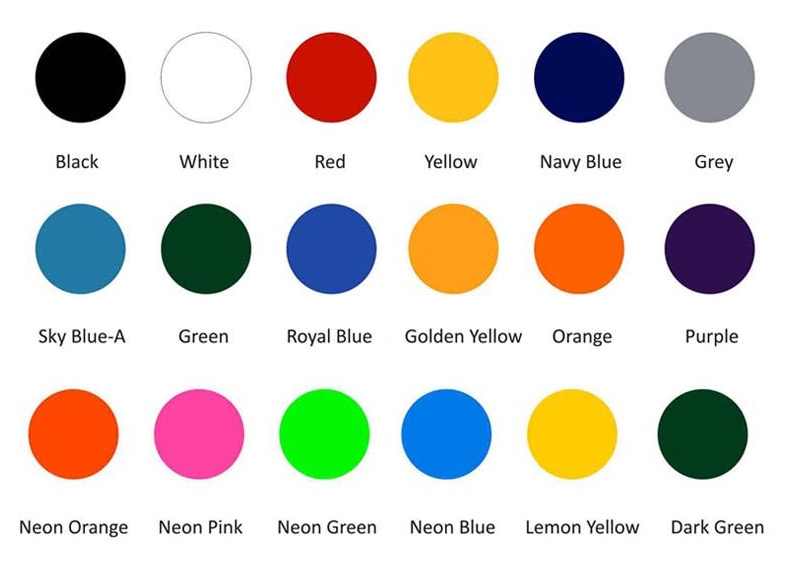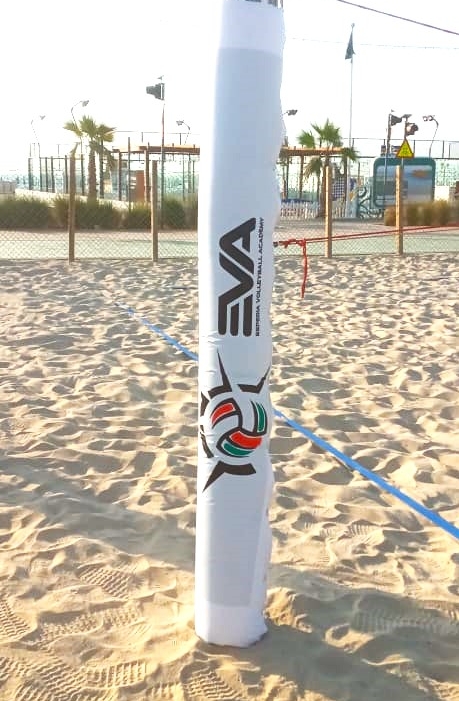 Inner side material:
Polyurethane foam is the best material to absorb the shock and impact. We can use the different thickness foams our Safety Paddings as per the site requirement,
We use a high impact absorbent foam for our safety pads and post padding. This is a closed cell foam which manages the impact extremely well. The cells are separate from each other and this in turn traps the air.
PVC Fabric Color Options:
The PVC materials using for the outer side covering for the safety padding is the finest PVC fabric available in the market, which can be washable, easy to clean,.
We use an excellent rip-stop durable PVC fabric to cover the foam making the Soft Padding extremely strong. The PVC fabric is fully waterproof and great for indoor or outdoor use. The PVC is easy to wipe clean, if required.
There is a choice of attractive colours to choose from and you can mix & match the colours or have stripe coloured post protectors which look amazing and original!
ART work Printed Safety Padding.
Smart Field Sports LLC can make your padding for your branding and marketing activities, The printed logo and names will give you more value than a plane padding,
'Fixed' or 'Removable' Soft Padding options
Choose Between "Fixed or Removable" Padding options to suit your needs and safety requirements, , We do customized safety paddings specific to your needs.
Post Protectors / Pole Padding
SMART FIELD SPORTS LLC provides the finest quality safety pads, pole protection or safety padding) offer the best solution for a safer environment. They are extremely easy to manage with little or no maintenance required and will ensure the safety of your zone around the clock!
The reduction in accidents will be massive!
Our safety pads are utilized in schools, nurseries, sports facilities, equestrian facilities, and other locations where everyone's safety is of the utmost concern.
Safety pads from SMART FIELD SPORTS LLC are custom-made and created to fit the contour of the post, beam, or other object you need to cover. This ensures a proper fit for your items, which means the padding will last far longer than other, poorly-fitted solutions on the market. This prevents movement, reduces wear and tear, and extends product life! Wonderful news for your wallet and you!
Our safety padding may be quickly attached or removed as needed and is designed to be used both indoors and outdoors. The PVC fabric is entirely waterproof, and if necessary, the surface may be cleaned. We create the post protector to be round, square, or rectangular to fit the posts according to their specifications. Additionally, we create unique shapes.
We can guarantee eliminating the chance of accidents!
Wall Padding
SMART FIELD SPORTS LLC Wall padding is ideal for a variety of uses, including KG classrooms, and sensory rooms, as well as locations where hitting a wall is very likely, such sports arenas, multi gym halls, contact and training rooms. You not only safeguard those who utilize these spaces from potential harm, but you also lower the expense of property repair and maintenance
Every project is designed and manufactured to suit your unique needs. Our padding solutions have been provided to numerous schools and multi-sport facilities in Dubai and Abu Dhabi, but they may be used both indoors and outdoors.
Padding
A strong PVC fabric with rip-stop quality and efficient high impact absorbent foam are the materials used by SMART FIELD SPORTS LLC. With several mounting solutions available, we can customize the wall padding to best suit your project. We can make the padding to the thickness you require.
SMART FIELD SPORTS LLC wall padding is the ultimate solution to protect people from accidental injury whilst also preventing damage to the property they are attached to.
All of our foam and PVC are low maintenance and fire retardant,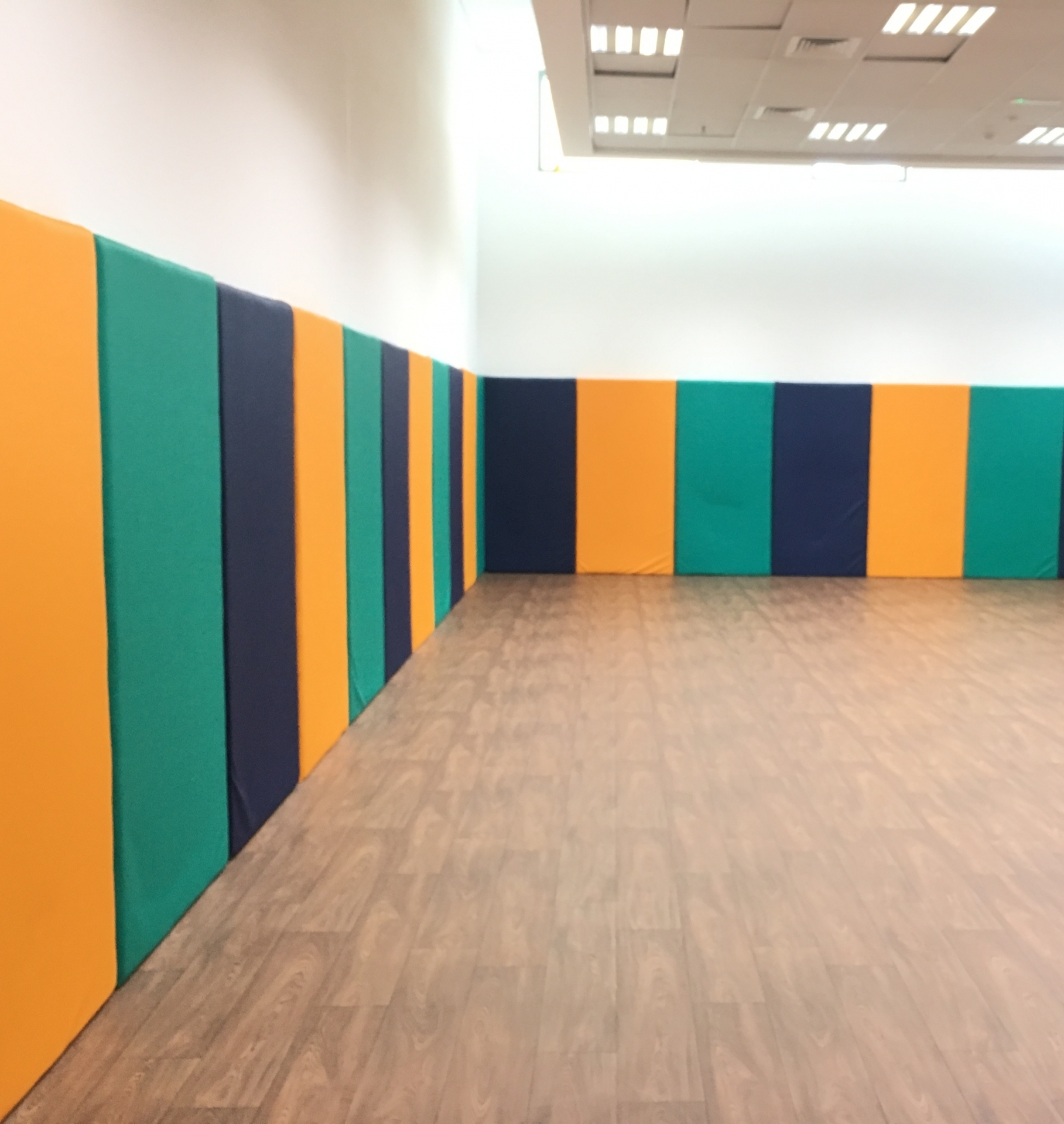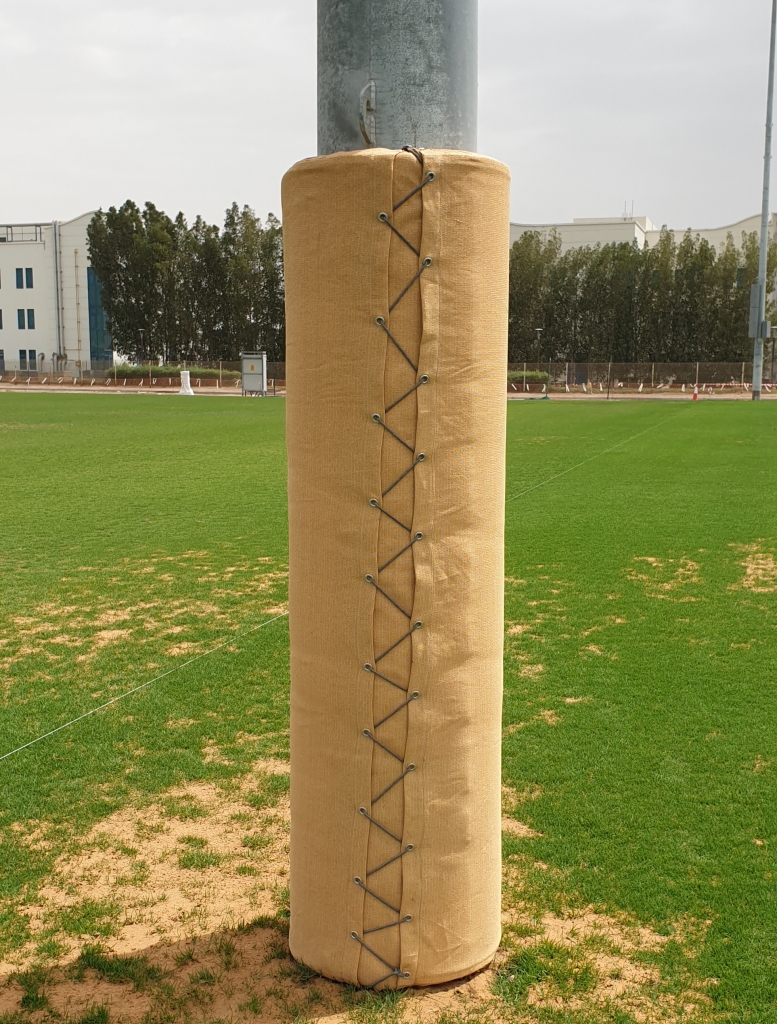 Gym & Sports
SMART FIELD SPORTS LLC supplies gym & sports foam products & equipment, post protectors and protective solutions for impact sports where foam padding would help reduce accidental impact and injuries. We offer a design option for you if you have restricted spaces, specific needs or want something different. Our gym & sports products, like our post protectors, can be made to fit. Your crash mats can be any size you need for instance.
We use proven solid foams and durable tear resistant PVC which are a perfect combination for our sports range, offering increased safety and reducing the risk of injury on contact. So for anything from post protection to crash mats and bespoke or one-off designs we have your back!
Any sports
If you are looking into reducing the risk to injury in any sports environment get in touch with us to see how we can help you out.
And don't forget your soft play shapes to compliment your club so that the little ones can play safely and keep themselves entertained in a fun environment.
All of our foam and PVC materials are fire retardant and are easy to maintain.
Our protective padding can be designed to specific sizes and requirements. We are happy to create one-off designs.